XLS Editor - for Windows 8
XLS Editor lets you create, view, edit, and save Excel files (XLS / XLSX) on Windows 8.
Download:
This application can be downloaded from the Windows Store (click here).

Screenshots: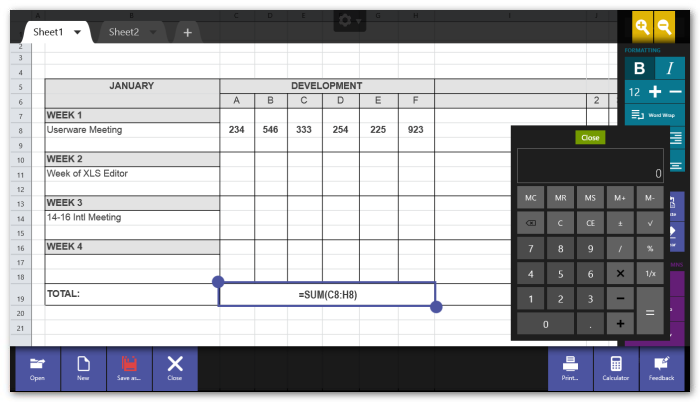 Screenshot1: XLS Editor lets you create, view, edit, and save Excel spreadsheets (XLS/XLSX).
Features:
Compatible with Excel files (XLS and XLSX).
Print, Sort, Copy/Paste, Clear, Insert/delete rows/columns...
Formatting: currency, percentage, bold, italic, font size, alignment, word wrap...
Supports formulas
Built-in touch-based calculator for doing quick calculations
Works great with both touch and non-touch devices
Open password-protected files
View charts of the following types: clustered column, stacked column, line, scatter, scatter with smooth lines
View Rich Text Formatting
Fast and fluid. Zoom in / zoom out with your fingers or with Ctrl+MouseWheel.
Support:
Please click here for support information.
Other cool software by Userware:
XLS Editor is only one of the many cool apps by Userware. Click here to see all apps by Userware!
Userware also makes innovative patent-pending "wiki-like development" technologies such as Wiki-OS. Click here to see all the products and solutions.
Userware also provides top of the line professional services in Windows 8 application development. Click here for more information.