Features
Main features:
A start menu lets you launch applications without installation
See how applications work by clicking their Edit Source button
Develop new applications right away from the browser
Mac OS users can write C# / .NET / Silverlight applications without a PC
Start developing an application and then let the community finish it
Copy/paste source code from other apps or quickly reuse components
Share applications by embedding them into web pages
Overview:
Access your applications and data from any computer
Wiki-OS simulates an operating system inside your web browser. It lets you to launch rich-client applications without installation and access your data from any computer connected to the Internet. Applications are executed in a sandbox that securely isolates them from the rest, so that your computer is always protected.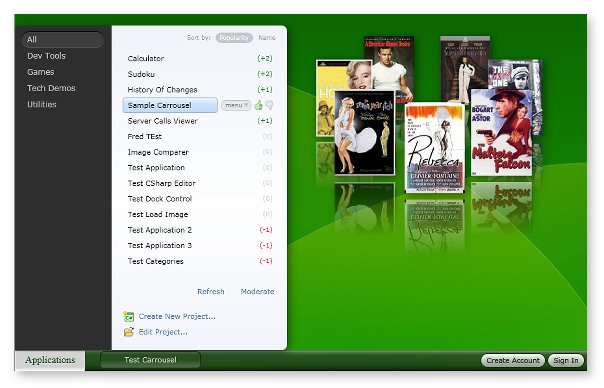 Embed applications on your website or blog.
Similarly to how you can put a YouTube video on a website or blog, you can put a Wiki-OS application inside any web page. Just click the "embed" button at the top-right corner of any application and copy/paste the code snippet.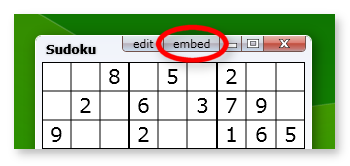 Collaboratively develop applications using the online development environment
Wiki-OS includes all the tools to get started writing Silverlight and .NET applications in seconds. It provides a built-in source control to work collaboratively. The code editor supports C# 4.0 and provides syntax highlighting, auto-completion, and an easy-to-use User Interface designer.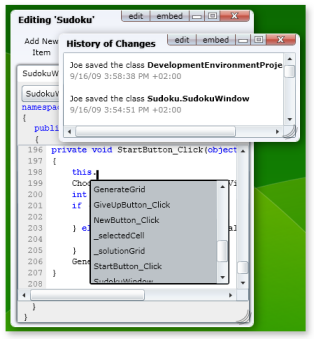 Deploying an application is as simple as sharing a URL
Just append the name of a project and a class to the Wiki-OS.org address and you have a direct link (e.g. www.wiki-os.org/CalculatorProject/Calculator to launch the calculator).
Contribute to applications as easily as a wiki
Wiki-OS includes patent-pending technologies by Userware to make contributing to an application as easy as modifying an article of a wiki.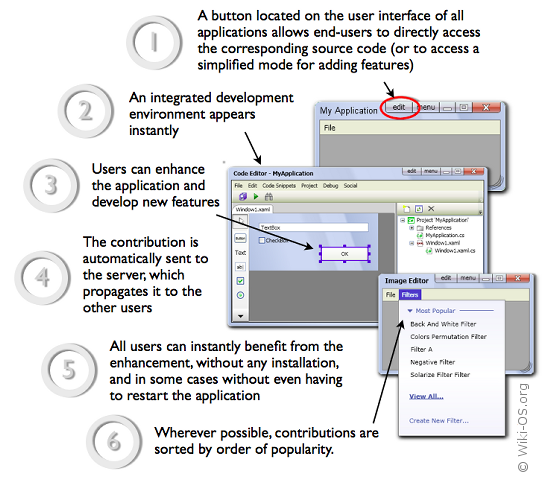 (the screenshots in the diagram above are taken from the WPF-based version of Wiki-OS.org)
Wiki-OS is currently available in two versions:
Silverlight-based version (enter): this is the recommended version of Wiki-OS. It is cross-platform PC and Mac (Linux soon). It provides unique features such as the ability to embed applications into web pages.
WPF-based version (enter): this version allows launching and developing full-featured rich-client applications that leverage the power of the .NET Framework 3.0+, including hardware-accelerated 3D graphics. No installation is required on IE under Vista and Win 7.